See how SPARK has Transformed the Health & Lives of Overworked People Worldwide
JENNY G.
"Where do I even begin?! Since my first phone call with Sarah I felt heard, she took the time to ask questions, and listen to me.
We created a plan together and I love the uniqueness of my own plan. I love that I have somewhere to check in weekly or anytime if I needed, the app is such a helpful tool!
Then there's the community of people all different ages, walks of life etc.. and we fire each other up, it helps keep you accountable.
t's not all butterflies and rainbows.. there's effort needed, there's that self accountability and work ethic needed and if you're looking for any type of life change."
Kelly O.
"I have shared beautiful experiences with Sarah at Spark Fitness through her holistic approaches and teachings. Meditation and sound bowl sessions are a beautiful way to connect with yourself. Sarah offers Reiki sessions and they will change your life. I have had two healing sessions with her, and already booked my third session. This season of growth has been quick and her lifestyle coaching has become an integral part of my process. She's allowed me to clear my energy and connect with a deeper version of my body and mind. Highly recommend her, and her team to help you!"
AME G.
"
I started with Sarah at Spark Fitness in Mid-January and I'm so happy I did!
When I switched gyms back in October, the energy from Sarah and the Spark clients caught my eyes and ears almost immediately, the environment they created was electric.
Sarah took the time to learn my goals, vision and my why, got me all scanned in so we had a starting point, and pointed me in the right direction and I got to work.
The program I am on is easy to follow, constantly changing and in a super convenient app that keeps track of your sets, reps and weight.
I've seen massive changes in my muscle definition and overall body composition. I've been training for years and Sarah got me closer to my goals in 3 months then I have in 4 yrs.
I'm super grateful to have found Sarah and super excited to be on the Spark team because dang, those people are literal energy. I can't wait to see where this takes me!"
Brittni F.
"Completed a session yesterday and I feel amazing! Sarah was able to help me remove some personal blocks. She was kind and supportive while remaining very professional. I already feel energetically lighter! Excited for my next session, thank you!'
SARAH H.
"Like most women, my body has changed shapes and sizes throughout my entire life. At one point while restricting calories, I got down to 125 lbs. but it wasn't easy to maintain, and I was weak. The day I gave birth to the twins, I weighed in at 197 lbs.!!
I started training with Sarah two months ago and I already see huge changes in my body. I'm down 10 lbs. and I have muscles for the first time! Sarah helps me with nutrition, teaches me how to weight train, and focuses on my overall health and wellness. She is one of the strongest and most supportive people I've ever met! Thank you, Sarah! I am forever grateful."
Lauren W.
"Sarah is the absolute best and kindest soul you will ever meet! In our reiki session, she helped me realize a lot of what my inner child was asking for and needs. I was able to finally hear and understand what I need for myself in order to let go of all the stress that I continuously put on myself, just as most of us do in this day and age. Everyone's path is unique and Sarah can help you realign and help you become more aware of your own healing process. I cannot thank her enough for all the help she has given to me. I highly recommend her if your looking for help or a boost on your journey, whether that be spiritual or fitness!"
JEN F.
"Spark Fitness has been a key component in the success of my own fitness journey. We learn there is never any one thing that we change but many different changes over the course of a long period of time.
Sarah and her knowledge and passion have helped me take things to a level I never thought I would reach. There is so much growth that comes with earning physical strength and the discipline you realize you're capable of. It's empowering!
I love having a plan. And that's what I get from Spark. A plan. All I have to do is follow it."
Connie A.
"I'm not quite sure where to start. Ever since my first introduction call with Sarah at Spark Fitness & Lifestyle Coaching my fitness journey changed. Sarah listened to everything I told her and helped me hit the ground running. I have been into fitness and nutrition for several years now and I hit a plato and needed guidance. Since joining with Sarah, I am seeing the results I have always worked so hard to see. Sarah is an AMAZING COACH in so many ways and without her guidance and support I would not be seeing the results I've waited so long to see. Sarah truly listens to me, pushes me to my limits and helps me with meal planning and I couldn't ask for more!!!"
CAROLYN J.
"Sarah has shown me how to have fun again in the gym!
I had been doing CrossFit for over 7 years and was struggling with slowing down. I was burned out physically and emotionally.
Change is hard and finding Sarah has been a real game changer for me!
Her programming has forced me to slow down, it has allowed me to heal but still experience "gains" in ways I could not imagine.
I have found joy again in my fitness journey and I am so grateful. She truly is a light, and a "spark" is what she offers but "spark" is an understatement. She ignites a full-on inferno, and I am proud to be a part of it."
Sabrina O.
"Not only is Spark a place to get fit, healthy, and work on your mind and body but it's a team/family. If you're looking to make a life change and not a quick fix, then this is the right place for you. You get customized workouts, you have a meal plan, and your coach is always there for you."
STACEY B.
"After a serious fall on black ice, I had multiple tears and injuries in both shoulders. Due to covid and other complications I was not getting the repair I needed and physical therapy was making things worse. I had little mobility in my shoulders and my arms and hands were rapidly getting weaker.
I had already begun a weight loss journey and was desperate to feel better, but I was afraid to work out and further injure myself. And even though I had dropped a good amount of weight, I was weak and lacking energy from inactivity.
A friend recommended Sarah to me and to be honest I was leery of using a trainer because of past experiences. WOW! What a difference. I immediately knew that Sarah was different. She took the time to hear my story and worked with me to slowly rebuild my strength. She listens to me and has learned my body and watches to be sure I am on the right path and do not re-injure myself. Sarah is much more than a personal trainer at a gym. She is a life coach who realizes goals are much more than a pants size or number on the scale.
My biggest goal was to be able to hold my new grandson in my arms all I want without pain. As of late February, when he was born, that goal is completely achieved, and I can hold him without limitation! As things turned out I reconnected with my stepdaughter and now have two grand babies to hold, and I have successfully held and carried both together comfortably.
To my surprise I am enjoying my workouts more than I ever thought I would and will continue to grow and rebuild on my fitness journey to keep up with my grandkids and live an active life. I am so grateful for Sarah and am honored to call her not only my fitness and life coach, but my friend."
Lorraine E.
"Sarah has always been a genuine soul. She's trustworthy and provided a relaxing session with balancing my energy which was absolutely needed! Reiki is an amazing experience within itself. After the session, she will provide you with where and what energy she felt, making you look at what is going on with yourself internally and externally. I definitely recommend and will be going back regularly myself."
KAYCEE H.
"Working out with Sarah gives me the confidence and experience required to meet my goals! This is the perfect program for me. It is client specific which gives me a plan nutritionally and physically. I'm provided with the tools and knowledge for success along with continuous coaching support. Thank you Sarah!"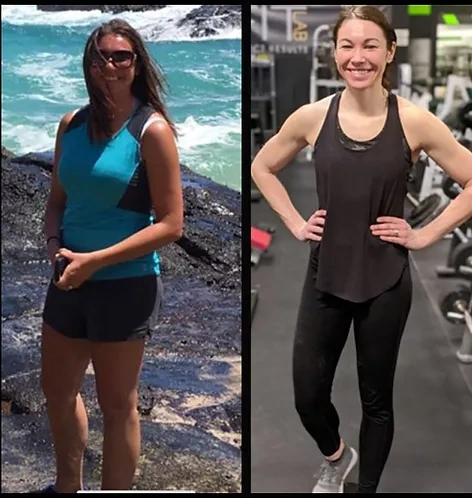 Branden S.
"I recently went to Spark Fitness for my first Reiki massage experience. Upon arriving I was a little nervous and Sarah noticed immediately and made sure to address it and make me feel calm and welcome. I went into this unsure of what to expect, and let me tell you. The experience was nothing short of a spiritual experience. If I could explain my experience to you in depth I would. But you may want to just go find out for yourself. I laughed, I cried, I felt a new freedom come over me. If you're unsure of the Reiki service Sarah offers, I'm here to tell you to let it go and give it a try. You will NOT be disappointed."
LOUISA F.
"Working with Sarah and Spark Fitness was one of the best things that have happened to me! Before working with Sarah, I was just starting to dabble in getting serious with lifting weights and working out. I was overweight and unhealthy physically, but also MENTALLY. I was working out to see a number change. I was not working out to feel better about my abilities or feel good about myself in its current state. I obsessed over working out and what I thought was "healthy" eating. I was starving my body of nutrients and honestly, enjoyable foods! This led me to isolate myself from social events because I feared binge eating, and if I binged on food, I added an extra 15 minutes of fasted cardio on top of what I already had. Let alone the negative thoughts I told myself!
Sarah led me to clarity by providing me tools for success. She did not give me a meal plan to follow, she showed me how to eat clean independently and incorporate the things I love for a truly balanced diet. Let's be real, nobody eats chicken, rice, and broccoli every day for all days. Is this a great meal? 100%! Pizza is also great.
Learning how to do this with the tools provided by Sarah was one of the best things for me. I don't say no to birthday parties or girl's nights out, I plan for them! I do not beat myself up when I forget to bring my packed lunch, I decide the healthiest option readily available to me! I stress less about falling off, I just get right back on track if I do (we all do). I don't punish my body for enjoying foods, I cherish its abilities! I don't worry about how far I didn't get toward my goal, but how far I have come. Growth is not always linear!!!
Having this clarity has led me to expand this belief of balance to my other life roles, not just as an athlete. I apply this idea of balance to my career, relationships, and spiritual identities. This may sound like a far-fetched testimonial but it's hard to explain something you must experience to truly understand. In short, Sarah has provided me the tools to identify my goals and values physically and mentally. Spark fitness and the crew inspire me daily to be better by interacting with like-minded individuals that remind me of who I am...so much love!"
Roxanne H.
"This has been absolutely a life changing experience for me. Sarah treats every part of you, Reiki specifically has helped me to understand myself, what I need to work on and how to genuinely let go of the things holding me down. Sarah specifically helps you to understand what to do with what she sees, and how to continue on your own to unblock, release tension and drive an entirely better life for yourself. 10/10 recommendation for anyone! Don't hesitate for a minute, you will be so happy you worked with her, I guarantee it!"
SUSAN W.
"I was looking for someone to help me find my way back to fitness when I was introduced to Sarah. I had personal trainers before, but Sarah brings so much more to the table. Sarah helped me find my confidence in the gym! Not only does she take the time to really know and understand my body, but she takes the time to educate me.
For the first time in a long time, I'm back to the weight I was when I was healthy and active, and on top of that, my muscle definition is more than it's ever been! Sarah is so thorough in what she does and truly cares for every one of her clients on a deep level. I am so ecstatic that I'm able to have the honor of being one of them."